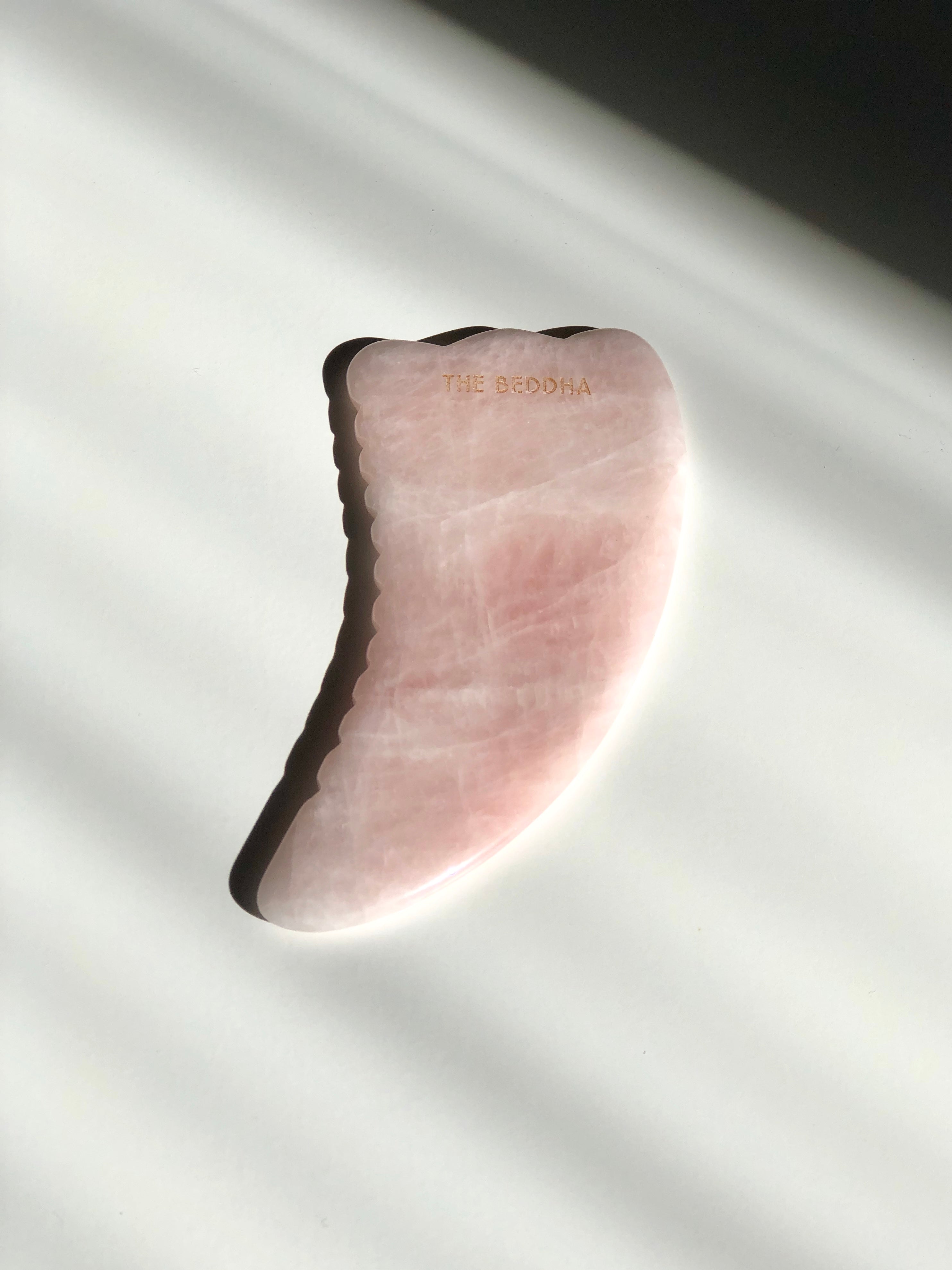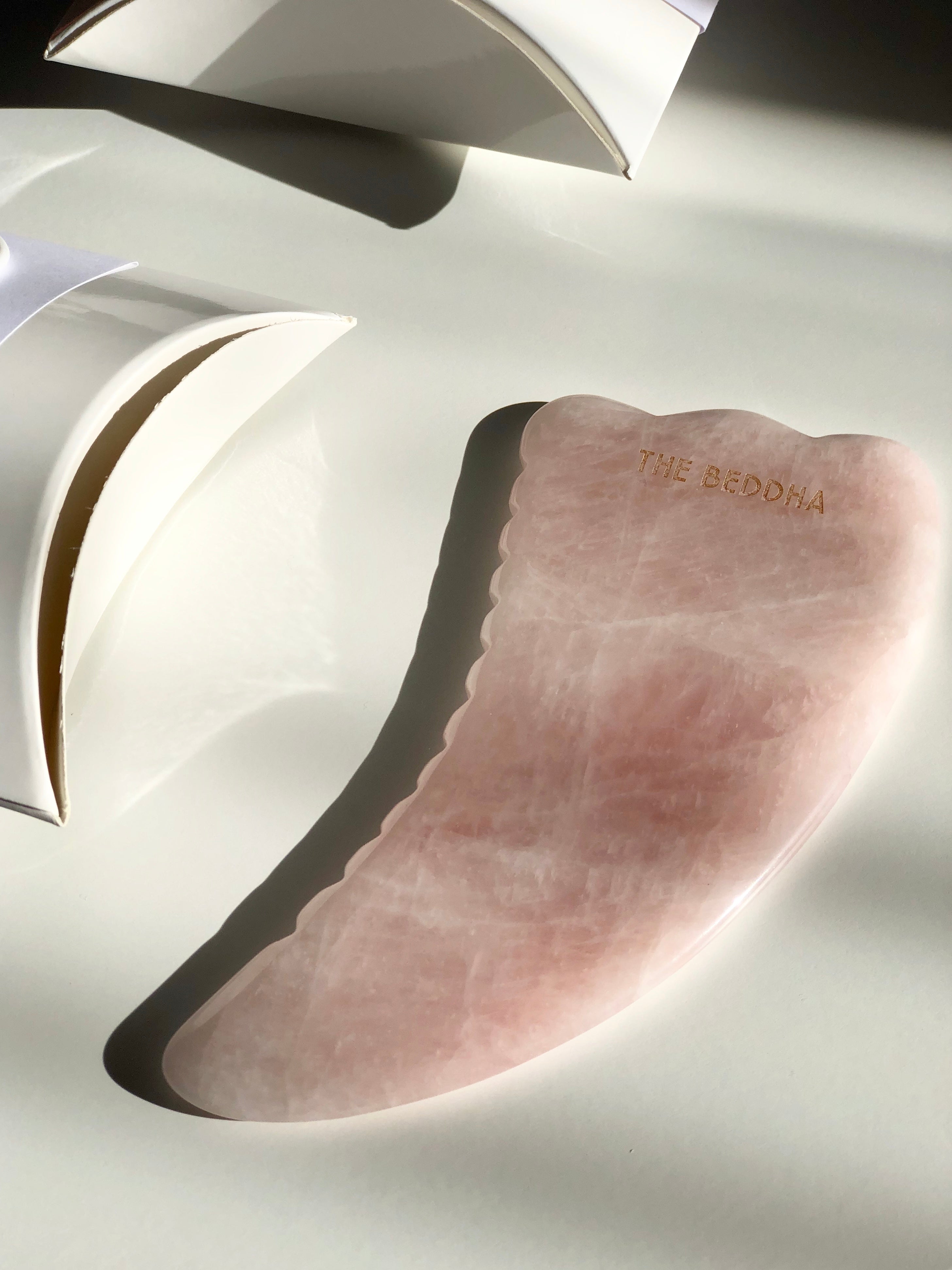 THE WING Rose Quartz Body Gua Sha
If cellulite is a concern, there is a holistic method which can be done at home and id far more effective in the long run than a quick fix treatments such as liposuction or expensive fat freezing treatments: gua sha scraping.
The word "gua" literally means "to scrape" whilst "sha" describes the redness that follows, is a 4000-year-old beauty treatment, which is growing in popularity due to the vast number of people who are shunning invasive expensive body treatments for a holistic approach to treating cellulite.
The Beddha's new The Wing Body Gua Sha is the new body gym workout in the palm of your hand.
Its proven to treat lethargic legs, buttocks, hips or abdomen; removing stagnant energy from your body's meridian points; draining the waste from your cells using deep massaging or scraping techniques.
Dubbed the needle-free "acupuncture", The Wing a type of self-massage body gua sha tool where you "press stroke" the affected area using its cool, flat-edge.
Crafted from the naturally beautiful and pink gemstone, Rose Quartz, commonly known as the healer of the Heart and one of the great beautifying crystals, Rose Quartz is metaphysically known for increasing self-love. 

Using The Wing body gua sha daily can help to:
Improve the appearance of elasticity of the skin

Reduce cellulite

Ease muscle tension

Relieves stress

Improves blood flow
When firmly stroking or massaging the cellulite with The Wing, there is an increase of blood flow to the surface of the skin; helping to disperse toxins by increasing  circulation and aiding the lymphatic and immune systems. Then as the blood is reabsorbed by the body it promotes an enzyme (HO-1) which is anti-inflammatory and increases immunity.
Gua Sha massage with The Wing will, in addition, stimulate lymphatic drainage and firm the skin by breaking down the stagnant fluid, drawing toxins to the surface and bringing fresh blood to the affected area. This has a toning effect on the skin, leaving the legs or other affected areas smooth and taunt. The heat generated by The Wing causes a meltdown of the fat and in the long run, improves the function of your kidney, spleen, liver and digestive systems, as well as supporting the immune system – all by helping your internal lymphatic system to drain excess waste and secretions safely out of the body.
Prevention and cure go hand in hand with Traditional Chinese Medicine.
Alongside a healthy diet, regulate exercise and minimal stress, The Beddha's new Rose Quartz Body Gua Sha The Wing is the go-to tool for a smooth, toned, cellulite free body. 
How to use : Wash and dry the affected area. Apply your favourite body oil. Scrape The Wing against the area using smooth, firm strokes in one direction for 5 minutes. For faster results, do morning and night daily.
Specs : Rose Quartz. Each tool is a piece of nature, so it will be unique and differ in size and color. [ This product is excluded from the right of withdrawal - returns policy ]
Vendor: The Beddha Collection